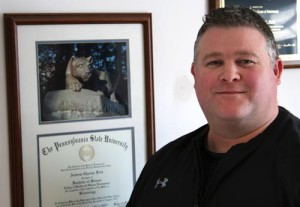 Cleona Chiropractic was purchased by Doctor Andrew Fink so he could practice in the Lebanon area, serving the community where he grew up…
Dr. Fink was born and raised in Lebanon and is a graduate of Lebanon Catholic High School. After high school, he received a Bachelor's degree in Kinesiology from Penn State University before earning a Doctor of Chiropractic degree from Sherman College of Chiropractic in Spartanburg, South Carolina. After receiving his degree, he worked two years as an associate chiropractic doctor before purchasing the Cleona Chiropractic clinic.
In addition to his chiropractic office, Dr. Fink resides in Lebanon with his wife Shannon and their two Saint Bernards, Sadie and Diesel. When they're not chasing after their dogs, they enjoy traveling, hiking, and biking.